Customers Love Seastorm Apparel!
I was sick and tired of the same old brands and wanted to refresh my apparel, I purchased the (Seastorm World SURF001B Short-Sleeve)  T-Shirt, very comfortable and the design is Fresh and Cool, LOVE IT!

F. Kennedy
Thanks for the AWESOME TEE. Being from California I go Surfing EVERY DAY Bro... so I was happy to show off my new shirt. Everyone Thinks its super Hot!

Mauro Pereira
Great Summer Tank (Seastorm Pacific Sun - Unisex Tank Top) bought two one for me one for my wife, very comfortable will buy more!!!

Franklin B.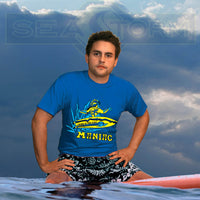 Seastorm Apparel®
In 1991 Seastorm Apparel® was created to set out to design a super comfortable, cool, exciting line of multipurpose Apparel.
Seastorm Apparel® is made of Unique & Exclusive Custom designs which we call "Eye Candy Designs".
Because every customer is very important to us we strive to have the highest quality of products.